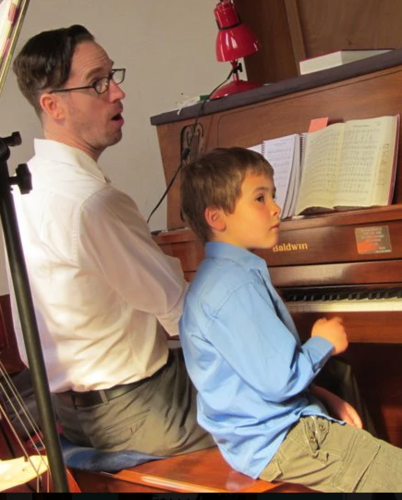 Hi there, I'm Brooke Maxwell, the music director for Esquimalt United Church. I think I've been at EUC since...(hmm...oh dear, it's been a while now, let's talk about something else...like, music!) Music is mostly what I do, and at various wonderful places around Victoria I play piano, saxophone, sing, occasionally write musicals, compose underscore for theatre, and sometimes organize family dances, like the Neighbourhood Hootenanny Time Machine. I love Esquimalt, and it is one of the highlights of my week to play music for [and with] the great people at EUC.
Our regular Sunday services start at 10:30 am at the church, but we have an all-ages, non-auditioned, inclusive choir that meets every Sunday, before service, at 9:45 am. The choir is an always expanding, wonderful, welcoming group, that is mostly well behaved. Perhaps you'd fit right in? We'll save you a seat!
Other musical highlights at our church are the Easter and Christmas services, where we have a live band of some of Victoria's finest [and nicest] musicians joining us. Stay tuned for more!
And...a recent undertaking in the last couple of years has been the all-age family dances in Wheeley Hall, known as the Neighbourhood Hootenanny Time Machine. You can learn more about that event by checking out (joining) the Facebook Group
And...if you want to learn a little more about me and some more of my other undertakings, check out my website.