Saturday, June 22, 2019
9:30 - 11:30 am
EUC Lower Hall
This event has already occurred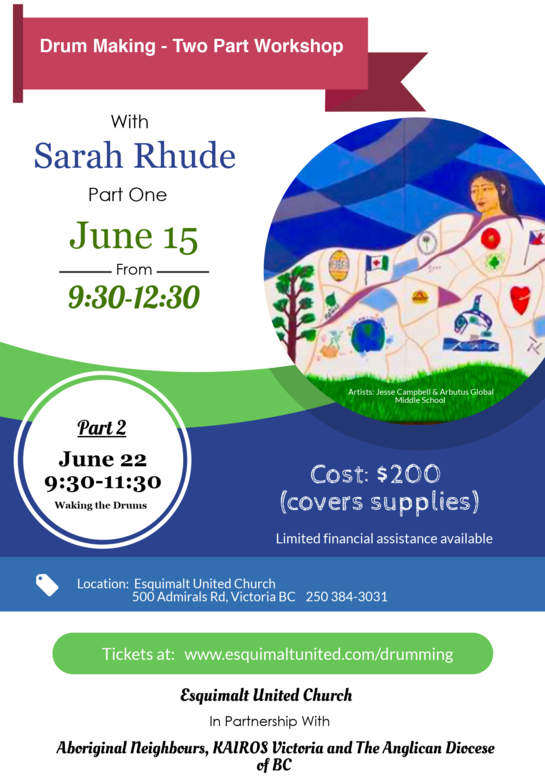 This is a two part workshop in which you will need to be available for both Saturday June 15 and the following Saturday June 22.
Part One: We will be learning the art and protocols of drum making with Sarah Rhude. Sarah is a Mi'kmaq/Algonquin woman from Gaspe QC/Maniwaki QC on her mother's side, and mixed European, settler ancestry on father's side. She was born in Sioux Lookout and was raised in Anishinaabe territory, in and around Northern Ontario, as well as many Interior British Columbia territories. For the last seventeen years she has had the honor to work, live, and learn in Coast Salish Territory on Vancouver Island, BC.
She is a proud Aboriginal woman who aims to foster the sense of pride she has in her culture with all students/people she works and learns with. She carries many teachings from her own territory, and the territories in which she was raised, but the bulk of her traditional knowledge has been acquired on Coast Salish territory. She has been given many tools and medicines to work with from local knowledge keepers, and with humility and knowledge of traditional protocol she is grateful to share these with others in a culturally appropriate way.
Part Two: Saturday June 22, 9:30-11:30. Sarah will guide us in waking the drums and learning the drum song gifted to us by Jessica Sault.
Tickets are now sold out, and are no longer available.
The workshop will take place in the Lower Hall of Esquimalt United Church which is accessible by a ramp from our parking lot, and by two steps from Lyall St.
This event is presented in partnership with Aboriginal Neighbours, Kairos Victoria, and the Anglican Diocese of BC.